Governor's Conference on Diverse Business Development
Potawatomi Hotel & Conference Center
1721 W. Canal St.
Milwaukee
MORNING • Wednesday, Oct. 23
8:00 a.m. – 12:00 p.m.
The Contracting Academy is a learning opportunity for businesses to grow their technical knowledge of contracting with the State of Wisconsin, federal government and government prime contracts. This series of workshops will benefit established businesses looking to grow and development their government sales and focus on three areas:
Government construction contracting

Selling goods and services to the government

Federal manufacturing and technology
AFTERNOON • Wednesday, Oct. 23
Economic Opportunity Sessions
A series of presentations and panels on upcoming major public and private projects as well as topics relevant to small businesses
1:30 p.m.
Registration and networking
2:00 p.m.
Presentation: Wisconsin's Current Footprint on Race and Ethnicity
Contract Opportunities
Wisconsin Center
2020 Democratic National Convention, Milwaukke
Komatsu HQ
Panel: Cybersecurity Awareness
Wisconsin Supplier Network
Online directory to connect suppliers and service providers to new business opportunities

EVENING • Wednesday, Oct. 23
38th Annual MARKETPLACE Reception
5:30 p.m.
Welcome Keystone Event Sponsor by U.S. Bank
Business networking reception with businesses, government agency representatives, public officials, lenders, business service providers and MARKETPLACE corporate sponsors
Remarks by WEDC Deputy Secretary/COO Tricia Braun
Reception program
Business and Community Development Awards

Diverse Business State Contractor Awards (Wisconsin Department of Administration)

8(a) Graduate of the Year and Minority Business Champion Awards (SBA)

Networking
8:00 p.m.
Reception adjourns
Governor's Awards Breakfast
8:00 a.m.
Remarks by Keystone Sponsor, U.S. Bank
Remarks by breakfast sponsor, Milwaukee Business Journal
Introduction by WEDC Secretary and CEO Melissa Hughes
Wisconsin Governor Tony Evers
Presentation of:
MARKETPLACE Sponsor Hall of Fame
Minority-Owned Business Awards
Women-Owned Business Awards
Service-Disabled Veteran-Owned Business Awards
9:00 a.m.
Buyer meetings: One-on-one matchmaking meetings with dozens of federal, state, local, university and corporate buyers
Exhibitors: Over 100 exhibitors, including small businesses, lenders, business resources, professional service, and government agencies
Business networking lounge: Centrally located within the Expo Hall for making connections with potential buyers and partners
12:00 p.m.
Business Lunch
Remarks by Keystone sponsor, U.S. Bank
Remarks by WEDC Vice President of Business and Community Development Mary Gage
Small business success stories
Contracting/procurement panel
1:30 – 4:00 p.m.
Expo hall and one-on-one buyer meetings resume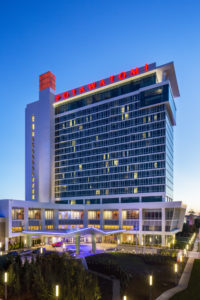 Potawatomi Hotel & Casino
1611 West Canal St., Milwaukee
Reservations: 844-217-4100
Hotel website
Please note that you are responsible for making your own room reservation at Potawatomi Hotel & Casino.
Group rate code: MAR10222019